I begin with an idea and then it becomes something else." -Pablo Picasso
Picasso and Cubism – Our Inspiration at Open Studio Sessions this week
Welcome your week with a little bit of whimsy and fun! Homage to Cubism and Picasso's Rooster!
Spanish artist, Pablo Picasso (1881-1973), is well known for introducing the principles of cubism in artwork, where classical ways of depicting the natural world are deconstructed and reassembled, highlighting abstract shapes and their multiple and simultaneous viewpoints. Picasso is perhaps most well-known for his two cubism pieces "Les Demoiselles d"Avignon (1907)" and "Three Musicians (1921)". Picasso's rooster, suitably named,"The Rooster (Le Coq, 1938)" is a work of art that lingers in between a classical depiction of the bird itself and a cubist reconstruction of it. Here, Picasso uses line both in a mix of fluidity of form, juxtaposed with representations of only the basic elements of a rooster (eyes, beak, wings, tail feathers, legs, feet), omitting naturalistic details.
This provides us with an example of how Picasso embarked on creating a cubist style. This week come and learn more about Pablo Picasso, his work, and try your hand at learning the principles of cubism for yourself. You can use our lovely countryside bird as your inspiration to create a rooster, or you can deconstruct objects of your choosing by bringing something from home or selecting something from our in-studio still-life collection. As always, we have a vast array of watercolour mediums, chalk pastels, acrylic paints, oil pastels, air drying clay, a selection of mixed paper at your disposal. Those who would prefer working on independent projects are welcome to do so and have full access to the art studio as always!
Let your inner Picasso come to life! A great project for all ages. Have a look at a few of these examples!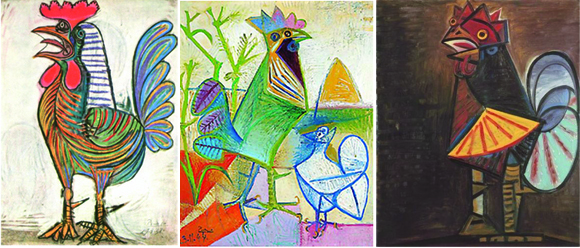 Here is my rendition of Picasso's Rooster (clay), that will be in the studio as inspiration: